In the Democratic Republic of Congo, on an area larger than Austria, we have implemented a programme against hunger. Why on such a huge area? Because it works. It is a programme that is truly able to defeat hunger. In this way, we can save 5,000 families (27,000 individuals) from hunger and we can help them to provide for themselves.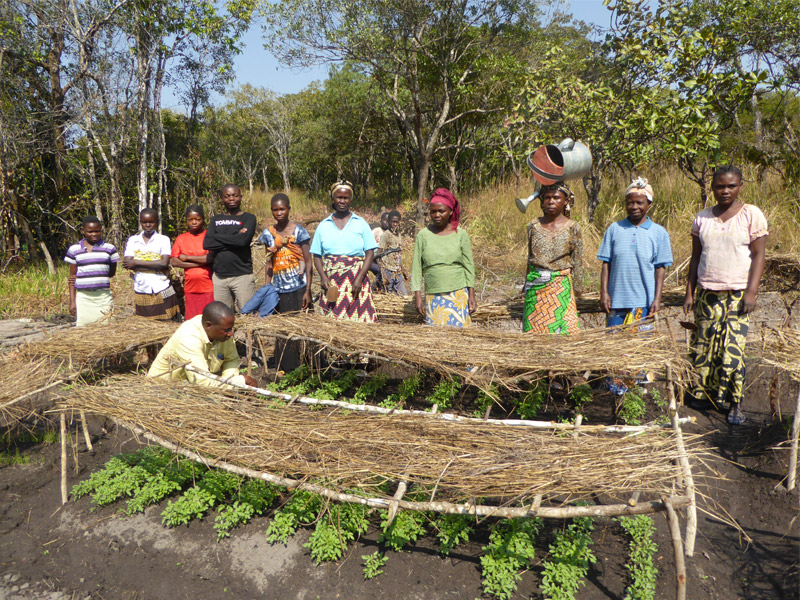 Fight against starvation in the DR Congo
"We chased away hunger," says the chairman of UFF, an association of small farmers in the village of Kabongo gare. UFF stands for "L'union fait la force" (French for "Together we are strong"). He is currently speaking at the monthly association meeting, where they are discussing what is to be done during the next weeks in the fields. All members of UFF have learned what steps need to be taken to ensure that plants grow soy or maize, and how to provide a high yield so that the whole village is fed well.
The village of Kabongo gare is just one example of this effective food security programme called "PRASA". The abbreviation stands for the French "Programme Régional d'Appui à la Sécurité Alimentaire", which means" Regional Programme to Support Food Security".
How our help against hunger works
We improve and "diversify" agriculture. Diversification means teaching local farmers how to grow more varieties on their fields. This reduces the risk of an entire crop failing. A total of around 5,000 families are supported.
We are helping with:
- Training in agricultural techniques such as composting, crop rotation, vegetable growing, livestock breeding, fruit growing
- Education measures in nutrition, income management and sustainable use of nature and resources
- Distribution of improved seeds, vegetable seeds, fruit tree seedlings and chickens and goats
PRASA
The regional programme for food security
The association of smallholders meets monthly to exchange experiences.

Measures such as training on improved farming methods are paying off.

In addition, the families receive locally adapted seed.

A total of about 5,000 families are supported.